Hollie Gazzard Trust campaigns for domestic abuse lessons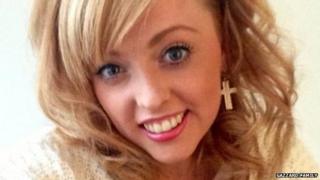 The family of a hairdresser who was killed at work by her ex-boyfriend want lessons about domestic violence to be part of the national curriculum.
Hairdresser Hollie Gazzard, 20, was murdered by Asher Maslin at the Fringe Benefits and La Bella Beauty salon in Gloucester in February.
Her family set up the Hollie Gazzard Trust with one aim being to help reduce domestic abuse through education.
Hollie's father Nick Gazzard said the trust's work was "Hollie's legacy".
He said: "We want to ensure that we educate our youngsters and keep them safe and make sure they have the right choices to make and the right information to make those choices - so they are safe and their lives are fulfilled.
"Whether it's hairdressing, or whether it's other routes, or whether it's just to keep them away from domestic abuse."
Steve Knibbs, BBC Gloucestershire reporter
These pioneering classes are now a focus for the trust - helping young people to recognise the warnings of domestic abuse.
Now by funding a local support service, the trust wants to get these lessons on to the national curriculum.
The Hollie Gazzard Trust is working with the Gloucestershire Domestic Abuse Support Service (GDASS) to finance a domestic violence programme for the county's secondary schools.
Sally Morrissey, from GDASS, said: "There's a lot of interest. Young people really do want to talk about this subject.
"[They] are quite interested in discussing it, learning about it - getting to understand what's right, what's wrong and what they should and shouldn't have to accept. It's really important that we do that."
The trust also offers bursaries to fund people under 25 who want to train to be hairdressers at Gloucestershire College.
Maslin, 22, was jailed for life in July and ordered to serve a minimum term of 24 years.