Gloucestershire radon tests take up at 25%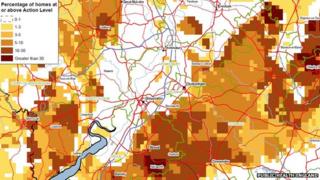 Up to one in four homes in Gloucestershire have agreed to have a free test for radon gas.
Last month, Public Health England (PHE) wrote to more than 18,000 homes in so-called radon "hotspots".
In Cotswold and Cheltenham take up is at 25% and in the Forest of Dean the figure is 23% after a second appeal was made at the start of December.
The gas is naturally-occurring but can lead to lung cancer deaths.
Radon is an odourless, colourless natural gas which seeps into homes from the ground.
More than 8,000 homes in the Cotswold District Council area, almost 10,000 in Forest of Dean District Council and 200 in Cheltenham Borough Council areas were contacted by the health body.