Forest of Dean radon tests plea from Public Health England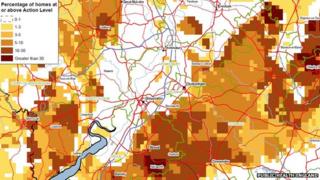 The organisation behind a mass radioactive gas testing project has appealed to households in the Forest of Dean to take up free tests.
Last month Public Health England (PHE) announced it was writing to over 18,000 homes in parts of Gloucestershire in so-called radon "hotspots".
PHE said so far more than 2,000 had replied but the take-up rate in the Forest of Dean area was low.
The naturally-occurring gas can lead to lung cancer deaths.
Neil McColl, head of radon at PHE, said so far 20% of people contacted in the Cotswolds had replied, with the number at 15% in Cheltenham.
However the response in the Forest of Dean stood at just 7%.
'Completely free'
"We're urging people who haven't yet responded to dig out their offer letter, fill it in and pop it in the post," he added.
"It only takes a few minutes and it is the only way of knowing if your home has a high level. The test, and the postage, are completely free so it won't cost you a penny."
Radon is an odourless, colourless natural gas which seeps into homes from the ground.
Long-term exposure can lead to lung cancer, especially in smokers, and PHE estimates that about 1,000 people across the UK die from a radon-linked lung cancer each year.
Letters offering a free test went to more than 8,000 homes in the area covered Cotswold District Council, almost 10,000 in the Forest of Dean District Council area and about 200 homes in the area covered by Cheltenham Borough Council.