Shaun James 2002 hit-and-run: Police treating death as murder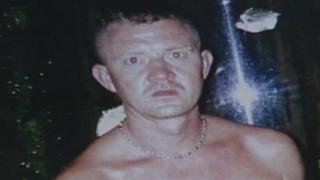 The hit-and-run death of a Gloucestershire man in 2002 has been reopened as a murder inquiry.
The body of Shaun James, 32, was found with multiple injuries in a Forest of Dean lane in December of that year.
His family claimed he was murdered but police shut their case after a 15-month investigation failed to establish whether the death was accidental.
However detectives now say he was deliberately run over by a white van.
The force said it believes there had been an argument involving the driver which resulted in Mr James being taken in the van to a lane off Steam Mills Road, near Cinderford, where he was "the victim of a cold-blooded murder".
"Shaun was caught underneath the underside of the vehicle and dragged some 65 metres along the lane before he became free and remained in the lane until his lifeless body was found just after 7pm," said Det Chief Insp Steve Porter.
"Shortly before this there was a further sighting of a white ford transit-type van leaving the lane at speed."
The new information was revealed as part of a televised Crimewatch appeal which included a reconstruction of Mr James' death.
Lisa McStraw - Mr James' partner at the time he was killed - said in the appeal: "The day that Shaun died we all died. Even now, it has been 12 years, there's not a day goes by that we don't think about him."
His son, Jesse, added: "Finding someone isn't ever going to help with him actually not being here, but it brings justice."
Gloucestershire Police believe someone within the local community has vital information about who may be responsible and is urging them to come forward.