Taunton hospital deters smokers with children's messages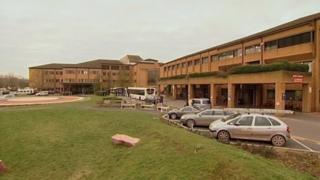 Children's no smoking messages broadcast outside a maternity unit have reduced the number of people lighting up, bosses say.
A PA device, triggered by staff, has been targeting smokers outside Musgrove Park Hospital in Taunton since October.
Smoking is banned across the Somerset hospital's grounds and buildings, but many ignore the no-smoking signs.
The hospital said the trial had been "positive" and the system will be introduced across the site next year.
The maternity unit, according to the hospital, was a "hotspot for patients and visitors smoking" despite no-smoking "initiatives and campaigns".
But, since the introduction of the speaker system, more than half the smokers targeted outside the unit have "stopped smoking and walked away".
"Children's voices are fantastic at capturing attention and it's putting across the smoke-free message in a very non-confrontational and non-aggressive way," said Lucy Rexworthy, the hospital's smoke-free lead.
"The trial is going really, really well and hopefully we'll be rolling out the speaker system throughout the hospital in the new year."