Closed Gloucester prison spends £250,000 on security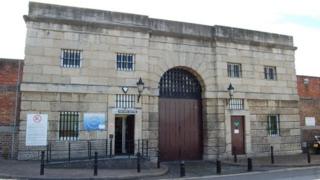 Almost £250,000 has been spent on security at Gloucester prison since is closed last year, the BBC has learned.
Figures revealed through a Freedom of Information request also show more than £23,000 has been spent on maintenance and £17,000 on electricity.
The site has been up for sale since HMP Gloucester closed in March 2013.
A spokesman for the Ministry of Justice said it was obliged to protect the building because it has partially listed status.
The figures show a total of £338,000 was spent on security, utilities, maintenance and IT up until September this year.
Andrew Selous MP, Minister for Prisons, Probation and Rehabilitation, said: "HMP Gloucester has partially listed status and we are therefore under an obligation to protect it from damage.
"The level of security is appropriate for a site which has been closed and we always ensure that any costs incurred are at a minimum."
A spokesman said bids for the 18th Century jail have been evaluated and commercial negotiations are ongoing.