Flood rescue hovercraft donated to charity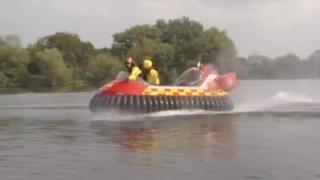 A Gloucestershire Fire Service flood rescue hovercraft that has never been used in an emergency has been donated to a local charity.
Severn Trent Water's community recovery fund paid £110,000 for two vehicles after severe flooding in 2007.
Severn Area Rescue Association (Sara) has been given one of the hovercraft and the second will be sold off.
Fire service bosses said it had bought more water rescue equipment since 2007 that is better suited to its needs.
'Huge asset'
Derek Cross, area manager at the fire service said: "We now have five water rescue stations and a lot more equipment is available to us so these are getting used less for the nature of the rescue work we're doing within Gloucestershire in relation to the rivers and our wide area of flooding."
The fire service said it could still use Sara's hovercraft if needed.
The charity is based at Sharpness where the vehicle will be used to rescue people on the coastal mudflats.
Geoff Dawe, lifeboat operations manager said: "Over the years we've had a history of people getting stuck in the sandbanks because of the speed of the incoming tide.
"That's a time we haven't sufficient water to get a lifeboat to get to them so a hovercraft would be a huge asset."
He said the rescue team would now learn how to operate the vehicle over the next few months.
Mr Cross said the aim was for the second model to be sold off to another organisation similar to the rescue charity.
"The money will be recycled back into further equipment for the service," he said.