Gun amnesty sees 40 guns handed into Gloucestershire police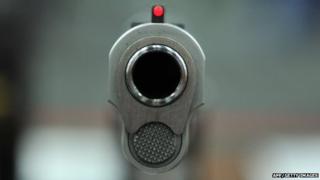 Some 40 guns have been have handed in to Gloucestershire Police during a week-long gun amnesty in the county.
The amnesty is part of a national drive to get illegal firearms and imitation weapons off the streets.
Gloucestershire Police said the guns were "all shapes and sizes". Normally 25 guns are handed in every month.
The move was prompted by a change in the law in July, when the maximum penalty for possession increased from 10 years' imprisonment to life.
A spokesman said on average 300 guns a year are found or handed in to Gloucestershire Police.