Hollie Gazzard killer Asher Maslin's mum 'begged' police to arrest him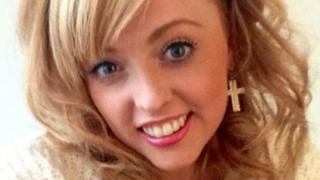 A mother has said she begged police to arrest her son the day before he killed his ex-girlfriend.
Asher Maslin, 22, was jailed for life in February for repeatedly stabbing Hollie Gazzard, 20, at her Gloucester hair salon.
Sam Maslin said she begged police to arrest her son "before it got out of hand".
The Independent Police Complaints Commission (IPCC) said it had identified "areas of learning".
Miss Gazzard, who had been in a relationship with Maslin since February 2013, was stabbed repeatedly by him as she was finishing her shift at the Fringe Benefits and La Bella Beauty salon.
He had been "threatening" towards her after she had "tried to finish with him", according to his mother.
Mrs Maslin said: "His mental health was deteriorating and I felt he was unsafe.
"I begged them to arrest him, because I didn't want him going round and causing trouble for Hollie and her family - but it just didn't happen.
"I was worried he was going to lose his temper but I never in a million years thought he would do what he did."
'Insult to Hollie'
Sentenced to life, with a minimum term of 24 years, Maslin was granted leave to appeal against the length of his sentence earlier this month.
But his mother said the appeal was "an insult to Hollie".
"He's my son, and I love him - I don't like him - but I still want him to do the right thing," she said.
"He did an unforgiveable thing and he has to pay the price for that."
The IPCC, which is investigating how Gloucestershire Police handled the case, said it would publish its findings in the near future.
"Based on the evidence gathered in the investigation we have not recommended misconduct action, although we identify areas of learning for individuals and the force," a spokesman said.