Cinderford £100m regeneration plans approved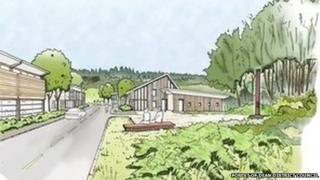 A £100m regeneration of a former Forest of Dean mining area will go ahead after plans were approved.
The application by the Homes and Communities Agency (HCA) is part of the Cinderford Northern Quarter Plan.
It includes a new access road, business space and a new college. Outline permission was also granted for up to 195 new homes, offices, a hotel and a visitor information point.
Construction work on the project is expected to begin next year.
David Warburton, from the HCA, described the plan as a "once in a generation opportunity" for the area.
"A great deal of work has been undertaken and investment made to get to this stage, in progressing plans, preparing the site and carrying out extensive ecological measures," said Mr Warburton.
Patrick Molyneux, leader of the Forest of Dean district council, said the approval "removes uncertainty" and will "benefit local residents and the district's economy".