Referee Brian Stevens, 75, takes charge of 3,003rd match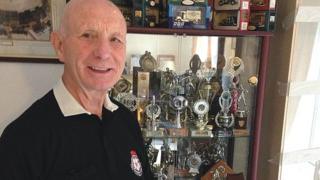 A 75-year-old former Wembley cup final referee is taking charge of his 3,003rd game after Christmas.
Brian Stevens, from Stonehouse in Gloucestershire, has been refereeing for over half a century and was a Football League referee for 21 years.
He has been at the centre of two notable FA Cup upsets, in charge of three Wembley finals and on 3 January will officiate his 3,003rd match - a Division Six Stroud League clash.
The Football Association said the "impressive total" was "very high" while Arsene Wenger described it as a "landmark total" and Sir Alex Ferguson as a "remarkable achievement".
But Mr Stevens says he has "no intention of giving up just yet".
"I've been to the top and back down again" he said.
"I'm not as fit as I used to be, but I can still get into good positions and my eyes are pretty good."
Mr Stevens began reffing in the 1960s when "whistles still had a pea in them", and made his first outing in the league in 1970.
But it was taking charge of one of the most famous FA Cup shocks in 1984, which brought him to the nation's attention.
"I refereed Bournemouth against Man United when Bournemouth won 2-0," he said.
"But someone obviously didn't like the result and as I was heading towards Salisbury I realised my headlights had been smashed."
'Smash your windows'
Three weeks later, he was again the man in the middle when Brighton knocked League Champions Liverpool out of the cup.
"I got home and got a phone call - I didn't know who it was - and they said 'We know where you live and we're going to smash all your windows' - I just slammed the phone down," he said.
"But these cup upsets probably killed it for me in getting a cup final."
A cup final may have eluded him, but with three Wembley finals and an FA Trophy he has had his "fair share" of big names - including John Charles, Paul Gascoigne, Brian Clough and a very young David Beckham - under his watchful eye.
"It might seem strange but you don't worry who the players are," he said.
"I'm looking at them without a face so I can concentrate on what they're doing."
With referees clocking up an estimated 6.5miles (10.5km) a match, and over a mile backwards, most league officials call it a day at the age of 47.
But Mr Stevens continued on until he was 52, taking the annual league fitness test alongside refs 20 years his junior, and for the past decade has been turning out in the Stroud League.
"I was doing a First Division or League Game on a Saturday and to get away from the newspapers - if I'd had a sticky game - I'd go and do Youth League on a Sunday," he said.
"When I came off the league, I was told I should pack it in but I wanted to put something back and I've been going ever since."
'Amazing feat'
Last year, he received the FA's Continuous Service Award for 50 years on the pitch, which Sir Alex Ferguson described as an "outstanding achievement" and an "amazing feat".
And in November the veteran official was presented with a pewter bowl to mark his 3,000th game.
"I reached 2,500 games about 15 years ago but in the last 10 years I've only done about 40 to 50 games a season because when you get to my age it takes a little bit longer to get over one game," he said.
"But I still enjoy it and as long as the health is good, I'll keep going for a season or two hopefully."