Bewick's swans' arrival at Slimbridge heralds 'late' winter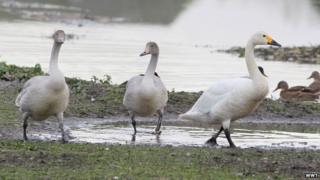 Bewick's swans have finally arrived at Gloucestershire wetlands, their latest arrival date since 1969, the Wildfowl and Wetlands Trust (WWT) said.
Two swans and two cygnets arrived at the Slimbridge-based charity on Thursday, after completing their 2,500-mile journey from the Arctic tundra.
The swans' arrival is traditionally seen as the start of winter, but is two weeks later than usual.
Last month, WWT said they had suffered an "alarming crash in numbers".
It said more than a third had disappeared since 1995, when the total population peaked at 29,000. The latest figures show that, by 2010, there were just 18,000 Bewick's swans left left.
Scientists believe illegal hunting, power lines and lead poisoning have contributed to the drop in numbers.
Bewick's swans
Bewick's swans, a subspecies of the tundra swan and the smallest swan in Europe, breed in the Arctic tundra of northern Russia.
The western population winters in northern Europe, including the British Isles, while the eastern population heads towards China and Japan for the winter season.
Bewick's swans traditionally arrive in the UK in mid to late-October. After resting and feeding during the winter, they return to their breeding sites in March.
They are found mainly in eastern England, around the Severn estuary and in Lancashire.
Slimbridge in Gloucestershire, the Ouse and Nene Washes in Cambridgeshire, and Lancashire's Martin Mere are good places to see them.
WWT has said that due to the loyal nature of the birds, the same ones returned to Slimbridge every winter.
More information from: BBC Nature - Bewick's swan videos, news and facts
Experts said that this year's mild weather and unfavourable wind directions delayed the arrival of the first family at Slimbridge.
Julia Newth, swan expert at WWT Slimbridge, said staff were "excited" to see the first arrivals, but more cygnets were needed to "bolster the dwindling population."
Swan volunteer Steve Heaven identified the adult pair - Nurton and Nusa - from their distinct bill patterns.
"They are familiar with the reserve as they have spent the last five winters here," he added.
"Their cygnets have now learnt the migration route from their parents and we are hoping that they will also become regular fixtures here."