Gloucester man jailed for microwaving rabbit to death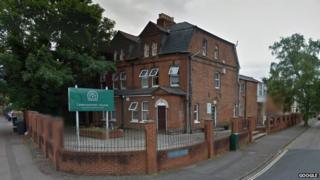 A man who microwaved his pet rabbit has been jailed for 16 weeks, with a judge branding the killing "sadistic".
Paul Rogers, who was living temporarily at the Dorchester Guesthouse in Gloucester, left the animal in the microwave for three minutes.
Cheltenham Magistrates' Court heard Rogers, 60, told police he killed the rabbit because he was angry about not being prescribed some medication.
District Judge Joti Boparai said it was one of his "most unpleasant cases".
'So cruel'
Sentencing Rogers, who has spent periods in psychiatric hospitals, the judge said: "You thought about it, you planned it and you decided to carry out this sadistic act.
"This case is so cruel and the suffering of that animal is so extreme that, regardless of your personal circumstances, I cannot suspend it [the sentence]."
Rafe Turner, prosecuting, said a fellow resident at the guesthouse found the rabbit dead on a saucepan lid next to the microwave in October last year.
The court heard Rogers, who had bought the animal five days earlier from a pet shop, told police he had killed it because he was "not happy with his lot" after his prescription request was refused.
"I didn't want blood on my hands and I felt the most humane way to put her out of her misery was to put her in the microwave," Rogers said.
He also said he had "no remorse whatsoever" and added: "Not even a grain of sand on a beach. I would be lying if I said I did."
RSPCA inspector Philip Mann, who branded Rogers "evil", welcomed the sentence.
"It is one of the nastiest cases I have come across," he said.
Rogers, who pleaded guilty at a previous hearing to causing an animal unnecessary suffering, was also banned from keeping animals for life.