Hollie Gazzard's family 'heartbroken' by killer's appeal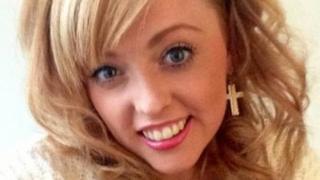 The family of a woman who was killed by her ex-boyfriend in a Gloucester hair salon said they would be "heartbroken" if he had his sentence reduced.
Hairdresser Hollie Gazzard was stabbed to death by Asher Maslin in February. He was jailed for life and told he must serve at least 24 years.
Maslin has been granted leave to appeal against the length of his sentence.
Hollie's father Nick Gazzard said: "We have a lifetime sentence, but we can't appeal".
Asher Maslin, 22, pleaded guilty to murdering 20-year-old Hollie Gazzard as she was finishing her shift, on 18 February, at the Fringe Benefits and La Bella Beauty salon.
Nick Gazzard said the family was also upset after first hearing about Maslin's appeal through the news media.
He said: "There is something wrong with the justice system when you have to hear these things from the press.
"When he appealed the first time, the first time we knew about it was when I had a call from a journalist.
"And yesterday again, the first time we knew about it was when someone told us to look on the [Gloucester Citizen] website."
He said the family's "worst fear" was for Maslin to have a reduced sentence.
Mr Gazzard said: "We believe that 24 years for killing Hollie was justice for us. He got a lifetime sentence, we have a lifetime sentence as well - we can't appeal. But he can.
"If he had a sentence which was reduced then that would be something we would really be heartbroken by."