Crickley Hill Iron Age battle site preserved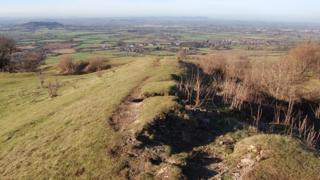 An Iron Age battle site containing the remains of a hill fort has been plucked from the precipice of destruction through erosion.
Years of erosion at Crickley Hill in Gloucestershire had threatened the archaeological remains of a fort dating back to about 3600 BC.
However it was given legal protection by English Heritage which placed it on an at risk register.
This helped secure enough funding to see conservation work completed.
The National Trust carried out the project which included back-filling extensive rabbit burrows, re-turfing and fencing off some areas which have been eroded.
Other eroded areas have been covered with gravel but left open to allow visitors to walk through the area.