Giant poppy made by 1,400 GCHQ intelligence agency staff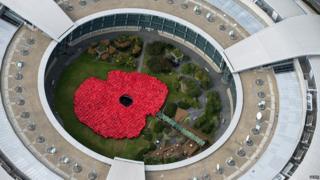 More than 1,400 intelligence agency staff have created a giant poppy in the centre of the GCHQ "doughnut' building in Cheltenham.
Staff, dressed in red rain ponchos, marked the launch of the Royal British Legion's Gloucestershire poppy appeal by forming the 38m (125ft) poppy.
The 1,308 civilian staff were joined by black-uniformed Royal Navy personnel, who made up the centre of the poppy, and military personnel who created the 28m-long (92ft)stalk.
A GCHQ spokesperson said: "Thanks to military planning and some loud hailers, it took just over an hour to get everyone into position."
The Government Communications Headquarters (GCHQ) is one of the three UK intelligence and security agencies, alongside MI5 and the Secret Intelligence Service (MI6).
The agency said there was "no shortage of volunteers" wanting to support the Legion.
One participant, who made up part of a poppy petal, said: "I was really proud to take part and show my support for the Royal British Legion by coming together with my colleagues, united in purpose, to honour those who have served and continue to serve this country."
Chris, a GCHQ civilian employee, said: "I've worked with the military in Afghanistan and seen first-hand how GCHQ intelligence can help keep UK troops safe whilst on operation.
"I'm proud to see so many from GCHQ come together today to show their support for the Royal British Legion and the military family."
Nicole Mayall, from Gloucestershire's poppy appeal, said it was "moving to see so many people standing together to support the work" of the Legion.
The red rain ponchos used are to be donated to local scout groups and Bloodbikes, a charity which provides an out-of-hours emergency medical courier service to the local area.