Adventurer Jamie Macdonald has portraits unveiled at museum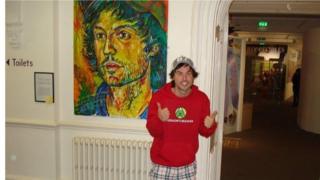 Two portraits of a fund-raising adventurer who ran coast-to-coast across Canada over 275 days have been unveiled at Gloucester City Museum.
Jamie Macdonald, 27, completed his 500-mile run (8,000 km) dressed as a comic book superhero, The Flash.
Mr Macdonald described the paintings, by Gloucestershire-based artist Russell Haines, as "absolutely brilliant".
Both portraits which will be auctioned off in December for Mr Macdonald's chosen cause, the Pied Piper Appeal.
Mr Haines said he was inspired to paint the portraits after hearing a story from Mr Macdonald's time on the road.
"There was a little boy Samuel, who I met on the road with his family, and, unfortunately, Sammy had cancer and it returned by the end of the run," Mr Macdonald said.
"His mum sent a message just to say 'I want to thank you and remind what you are running for', that I'm going to be out there to change the outcome for kids like that in the future and I shared that with Russell."
Mr Haines said: "Jamie told me about... Samuel, how ill he was, and when he told me the story it profoundly affected me, so I wanted to do something to try and help."
The paintings will be kept on display until 17 December and then sold off for the Pied Piper Appeal, which helps sick and disabled children in Gloucestershire.