Council's country parks 'could be given to wildlife trust'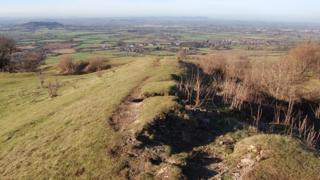 Five council-owned country parks and wildlife sites in Gloucestershire could be given to the local wildlife trust.
Handing over Crickley Hill Country Park, Barrow Wake, Cooper's Hill, Coaley Peak and Kilkenny would save the county council £50,000 each year in maintenance, a spokesman said.
A consultation into plans to give them to Gloucestershire Wildlife Trust could be approved at a cabinet meeting later.
A final decision is due to be made in spring next year.
A council spokesman said the move would mean "more opportunity to improve access and facilities", and said that current activities on the sites would be able to continue, including the annual unofficial cheese-rolling event on Cooper's Hill.
Deputy leader of the council, Ray Theodoulou, said: "Transferring these sites to a charity like Gloucestershire Wildlife Trust, which is set-up to protect and promote open spaces for the people and wildlife of Gloucestershire, could be an effective way to ensure they continue to be enjoyed by future generations."
The trust's Roger Mortlock said: "These sites are a great asset for the people of Gloucestershire and we are pleased to be discussing with the county council how we might manage them in the future."
Gloucestershire Wildlife Trust already manages 60 nature reserves in the county.