Forest of Dean pair deny racing cars in fatal crash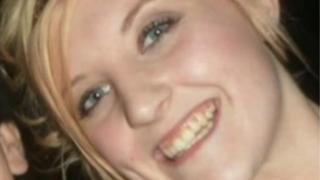 Two men raced each other "bumper to bumper" in their cars before a crash that left a woman dead, a court heard.
Paul Reddan and Matthew Creed are on trial at Gloucester Crown Court after the death of Mr Reddan's passenger, Leanne Davies.
The pair both deny causing death by dangerous driving follow the fatal crash in the Forest of Dean last May.
Witnesses said the pair were "driving very fast". One also said he thought "they were going to kill someone".
Mr Reddan, 20, of Stafford Close, Broadwell, who was Miss Davies's boyfriend, started the race with Mr Creed, 19, of Glen Oak, Brierley, Gloucestershire, despite not knowing him, the court heard.
He told the court he could only remember what happened moments before he started the journey and then just a few seconds before the crash.
'Not overly stupid'
He told the jury he lost control of the car as he was driving on this bend before crashing into a wall near a war memorial, leaving Miss Davies with fatal head injuries.
The defendant denied driving dangerously or over the speed limit.
Prosecutor Ray Tully asked Mr Reddan about his driving the week before the accident when his cousin took a photo of his speedometer as he drove at 120mph on the way to Newport.
Mr Reddan said he had also lost his memory about most of that night too.
Regarding his speed then Mr Tully said to him, "that was downright stupid".
"I wouldn't go that far," Mr Reddan replied. "Given the conditions it wasn't overly stupid. The road conditions were alright."
Mr Tully then outlined that eight witnesses had described him as "driving dangerously" on the night of the crash, which happened a week later.
Mr Reddan replied: "At the time of the accident my speed wasn't excessive."
Mr Creed then took the stand and denied the pair had been racing and that he'd only became aware of Mr Reddan's car when he was being overtaken.
He said he was slowing down to turn off the road when he saw the car lose control and crash into the wall.
He said he called 999 and helped Mr Reddan out of his car.
The trial continues.