Cirencester Roman cockerel goes on show at museum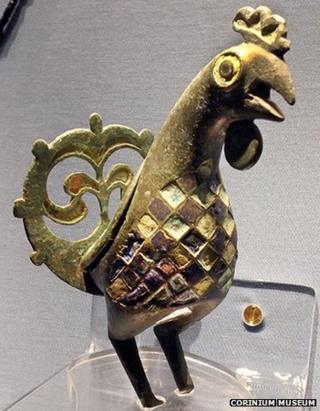 An enamelled Roman cockerel figurine has gone on permanent display at the Corinium Museum in Cirencester.
The bronze object, dating from the 2nd Century, was found in a child's grave during an archaeological dig in the Gloucestershire town in 2011.
It is one of only nine such figurines known from the Roman world, and is the only example with its tail intact.
Other items from the dig at the former Bridges Garage site on Tetbury Road have gone on display at the museum.
These include a flagon and some jewellery.
Neil Holbrook from Cotswold Archaeology said: "The cockerel is the most spectacular find from more than 60 Roman burials excavated at this site.
"It was excavated from the grave of a young child and was placed close to its head.
"Interestingly, a very similar item was found in Cologne in Germany and it looks like they both could have come from the same workshop based in Britain."
The excavation has been described as the most significant Roman cemetery investigation in the town since the early 1970s,
Also on display is the Tetbury Coin Hoard which contains 1,437 silver and copper-alloy 3rd Century Roman coins.