Aston Robinson guilty of Kayleigh-Anne Palmer's scarf murder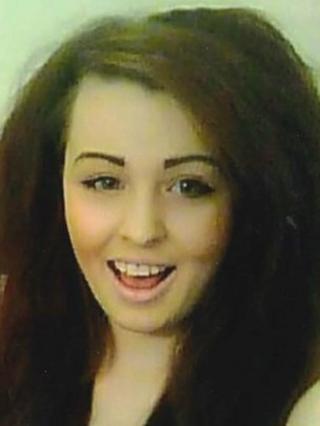 A man who strangled his 16-year-old pregnant girlfriend with a scarf has been jailed for life for her murder.
Aston Robinson, 18, from Cheltenham, admitted he had killed Kayleigh-Anne Palmer but denied a charge of murder.
Bristol Crown Court heard he wanted to "teach her a lesson" about "going with other boys" and strangled her in a "jealous rage".
Sentencing him, Judge Neil Ford said Robinson must serve a minimum of 14 years.
He said it was clear the defendant was "immature for his years".
"It was that immaturity that contributed to these fatal events... and his inability to control his anger," Judge Ford said.
Robinson's sister discovered Kayleigh-Anne unconscious at the house in Cheltenham shortly after the attack on 2 April.
She was taken to Gloucestershire Royal Hospital, where medics tried to save her and her unborn baby, which was 24 weeks old.
The baby's heartbeat stopped the following day and Kayleigh-Anne was pronounced dead on 5 April, after doctors induced labour.
Robinson had been accused of child destruction in relation to the unborn baby but was cleared of the charge.
Kayleigh-Anne's family then named the baby Lily-Rose and said she would "always be the little girl who would have been welcomed into our life and loved very much.
"We will take some comfort from knowing she rests in peace with her mummy."
In a statement released after the verdict, her family said "Justice has been done for Kayleigh and we wish to thank the jury for their verdict which will help us bring closure on what has been a very distressing time.
"Kay will always be remembered by her family and friends for her huge personality and radiant smile.
"She was a young girl who loved life yet always found time for others."
Knotted scarf
Det Ch Insp Mark Little said that after Robinson strangled Kayleigh-Anne, he locked the front door so his sister Michaela could not get in and left by the back door.
"He didn't call an ambulance or try to help her," Mr Little said. "He intended to kill Kayleigh-Anne.
"Anyone who puts a scarf and ties it - it was knotted when Michaela arrived - intends to kill them."
After the murder Robinson went to a betting shop to check on a £20 wager.
CCTV images showed him checking the bet at the same time as paramedics were trying to save Kayleigh-Anne and her unborn daughter.
Later that afternoon, he went with his father to Cheltenham police station and handed himself in.
During the trial, prosecutor Christopher Quinlan QC said Kayleigh-Anne was "besotted" by Robinson, who suffered from "paranoia and jealousy" when she was talking to other boys.
Asked if it was a deliberate act to stop her breathing, Robinson said: "Yes, but not like that, only [for] a few seconds.
"I wanted her to be quiet."