WW2 'batman' from Gloucestershire receives medals after 70 year wait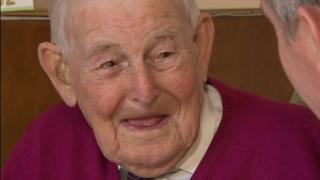 A World War Two veteran has been presented with medals recognising his service, 70 years after they were awarded.
Bert Bullock, 102, from Newent, failed the RAF medical for front line duty so volunteered as a 'batman' or steward serving at a base in Scotland.
He has now been awarded the Defence Medal and the War Medal 1939-45, after the Ministry of Defence was contacted.
He said: "I was very pleased but I didn't think I should get them."
Called up for service at the age of 28, Mr Bullock was posted to a base in the Shetland Islands.
"The pilots came back to a hotel place where we were doing all the cooking and then of course we had to wait on tables," he said.
"So I was very surprised when I was told I was going to get some medals - I said I can't be."
But local Conservative councillor Len Lawton contacted the Ministry of Defence to find out which medals the RAF veteran was entitled to.
"He never thought he'd done anything brilliant or brave and so he didn't think medals were something he should have and he wasn't worthy," he said.
"But I don't agree - I think it's fair he should have his medals which is why we've done this."
Mr Bullock was presented with the Defence Medal, the War Medal and a Veterans Pin by Wing Commander Christopher Brown, from MoD Abbeywood in Bristol.