Gloucester cellar sex attack 'not preventable'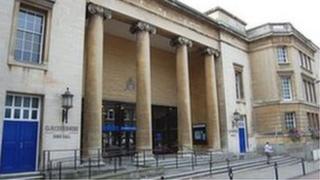 A sex attack by two teenagers on a boy in a cellar in Gloucester could not have been anticipated or prevented, a report has found.
During the attack the 17-year-old victim had cement powder rubbed in his face and was burnt with a cigarette.
Kane Lammin, 17, of Gloucester and Anthony Ford, 17, from Swindon, were jailed for 10 years each in October.
Both had previously pleaded guilty to serious sexual assaults. Ford also pleaded guilty to rape.
The Critical Learning Review was started after it was revealed Oxfordshire County Council did not follow protocol when relocating Lammin to Gloucestershire.
The authority admitted it had failed to tell Gloucestershire's children's services of the move, but had informed the youth offending team, which is also part of the county council.
Lammin, originally from Oxford, had been in the care of Oxfordshire County Council before being moved to new accommodation in Gloucester.
David McCallum, chairman of the Gloucestershire Safeguarding Children Board, said: "The Critical Learning Review... looked at the involvement of all organisations involved, reflecting on what might have been done differently to help prevent this crime.
"The review found that no-one could have anticipated, had information or had knowledge that could have prevented the incident from taking place."
The Gloucester Citizen had made a Freedom of Information Act request for the case review papers.
But Gloucester County Council said it would not be releasing the documents because it contained confidential information about young people and their offence.