'Real' Cider with Rosie dies days before 100th birthday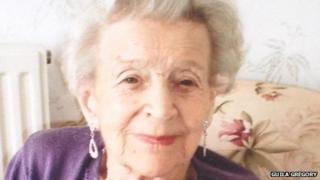 The woman who inspired "Rosie" in Laurie Lee's autobiographical novel Cider with Rosie has died just days before her 100th birthday.
Rosalind Buckland was Lee's cousin and grew up in the Gloucestershire village of Slad where the book, which has sold more than six million copies, was set.
The childhood story set after World War One includes a scene where Lee drinks cider with Rosie under a wagon.
Mrs Buckland died on Saturday in Cirencester surrounded by her family.
Laurie Lee was born in Stroud in 1914 and moved to Slad when he was three.
'Kept it a secret'
Cider with Rosie was published in 1959 and was an immediate bestseller.
It was the first of an autobiographical trilogy and dealt with childhood experiences, family, the awkwardness of growing up and rural life at a time when the countryside was experiencing great change.
Speaking about her grandmother - the "real Rosie" - Rosalind Buckland's granddaughter Guila Gregory said: "She was a real character - really friendly.
"She'd remember all the things about Cider with Rosie, Slad and have lots of tales to tell. She was always cheerful.
"[To me] she was just my Nan. She was Rosie, but she kept it a secret for years. She didn't go on about it and she always maintained she never drunk cider.
"I got her a bottle of champagne for her 99th birthday last year and she said then 'oh it tastes like cider' - she gave the game away there I think."
Mrs Buckland would have been 100 on 17 September and her granddaughter said her grandmother had been looking forward to receiving a telegram from the Queen.
Laurie Lee died in 1997 at his home in Slad.