Badger culling resumes for second year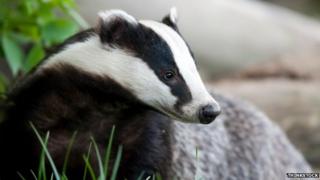 A second year of badger culling has begun in parts of Gloucestershire and Somerset in a bid to tackle bovine TB.
Last year, 1,800 badgers were killed in the pilot areas of west Gloucestershire and west Somerset. Just under 1,000 are due to be killed this year.
The government insists culling is necessary but protesters argue shooting is not "effective or humane".
More than 26,000 cattle were slaughtered in England last year because of the spread of TB.
Gloucestershire Police has said there had been "one encounter" between a protester and cull operator, which resulted in one badger being released from its cage.
No crime took place and the situation was "diffused", police added.
The four-year government-backed pilot aims to cull 70% of the initial population of badgers to test how "effective, humane and safe" a cull can be.
---
England's Badger cull:
Badgers are being shot by marksman for a second year as part of efforts to protect cattle from bovine tuberculosis (TB)
Badgers are thought to pass on the disease to cattle through their urine, faeces or through droplet infection, in farmyards or in pastures
The pilot is taking place in Somerset and Gloucestershire where 1,000 of the animals are due to be shot
Marksmen are shooting the badgers at night after putting food such as peanuts outside their setts
The Badger Trust claimed at the High Court this cull would take place without independent monitoring
Defra has denied this saying experts from Natural England and the Animal Health Veterinary Laboratory Agency will be monitoring the cull
Q&A: The badger cull explained
Find out more about badgers with BBC Nature
---
Ministers and the National Farmers' Union (NFU) believe culling badgers will curb TB in cattle.
Andrew Guest, chairman of the NFU in Gloucestershire and spokesperson for GlosCon - the company carrying out the cull in the county - said if infected cattle were culled but not badgers it was "leaving the circle open for re-infection again and again".
Environment Secretary Elizabeth Truss claimed the government's "comprehensive strategy" was supported by leading vets.
'Discredited' arguments
But protesters have claimed independent monitoring has been dropped and attempted to have the cull halted at the High Court.
The move was rejected by judges, after which the Department for Environment, Food and Rural Affairs (Defra) said: "We have always been clear that the independent expert panel's role was to oversee the six-week pilots in the first year of the culls only.
"This year we have made changes to monitor effectiveness and humaneness and the culls will be independently audited."
An independent report by the expert panel into the first year of culls found that "controlled shooting" of free-running badgers could not deliver the level of culling needed to lower TB cases in cattle and was not humane.
Protesters, who have called for alternatives such as vaccination to be considered, said Defra had "sacked the referee".
Dominic Dyer, of the Badger Trust and Care for the Wild, said culls were "ill-conceived and incompetently managed" and called the pro-cull arguments "discredited".
"Here we have a government and the National Farmers' Union pushing ahead with a policy simply because they don't have the guts to admit that it is wrong," he added.