'Fewer police' for this years badger cull in Gloucestershire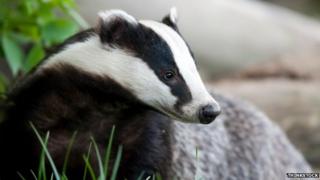 Fewer officers will be involved in policing the badger cull in Gloucestershire this year, police say.
In 2013 police from forces including Sussex, Warwickshire, Cornwall and the Metropolitan Police were brought in to help with the operation.
Officers say there will be a focus on more community policing with local officers on patrol.
The second year of the cull is expected to begin soon but Gloucestershire Police said they did not know when.
Assistant Chief Constable Richard Berry said lessons had been learnt from last year's Operation Themis.
'Fewer officers'
"This year there will be a different look and feel to the operation, very much focussed with local officers and less reliance on mutual aid [officers coming in from another force].
"It will be very focussed on dealing with local Gloucestershire officers dealing will local issues."
ACC Berry said the policy will mean fewer officers on the ground "certainly at the start of the cull".
The cost of last year's operation reached £2.3m, which has now been paid back by the Home Office, a spokesman said.
The four-year pilot aims to cull 70% of the initial population of badgers to test how effective, humane and safe a cull can be.
Government ministers and the National Farmers' Union believe culling badgers will curb TB in cattle.
Opponents say shooting the animals is not effective and is inhumane.