Council approves £150,000 grant for Tewkesbury theatre revamp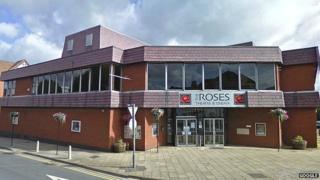 A £150,000 grant for "urgent repairs" to a Gloucestershire theatre has been approved by Tewkesbury Borough Council.
The Roses Theatre in Tewkesbury plans to make £750,000 in improvements to the 40-year-old building and was recently awarded £250,000 by the Arts Council.
The approved recommendations will now go before full council on 30 September.
Caroline Lawrence, from the theatre, said: "We are delighted the council is supporting us and very excited about the next 12 months."
The 375-seat theatre, where Eric Morecambe died on stage in 1984, is owned by the borough council.
As the theatre's landlord, the authority said it had "significant responsibilities for the repair and maintenance of the building".
The Arts Council funding is dependant on a matched contribution from the council and money from fund raising.
The improvement scheme includes replacing the theatre's roof and installing a lift to make building to fully accessible.
Ms Lawrence said: "This money will mean we are more than halfway towards our fundraising target."