Tewkesbury's Swilgate weir to be preserved during flood works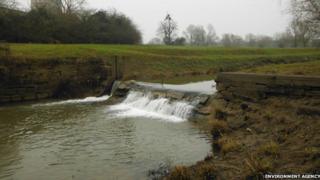 A historical weir in Tewkesbury will be preserved during "much-needed" flood alleviation works, the borough council has said.
In July the Environment Agency said it would need to remove the weir on the River Swilgate as part of its £50,000 improvement scheme.
The weir has since been recognised as a structure of historical importance.
The work, which will see the existing weir lowered by one metre (39in), is anticipated to last three weeks.
A Tewkesbury Borough Council spokesman said the project, led by the agency, will be supervised by a specialist archaeologist, with formal consent received from English Heritage.
'Exciting' project
The borough council's lead on environment, Conservative Jim Mason said the work will "make a real difference" and will be welcomed by the community.
Previous research by the agency found that fish were prevented from swimming upstream from Tewkesbury's two main rivers, the River Avon and River Severn, due to the height of the structure.
It is hoped that the development of the weir, between Gloucester Road and Tewkesbury Abbey, will help fish to pass up the river more easily and alleviate flood water around the site.
Agency fisheries officer Brecht Morris said the project was "exciting".
"The River Swilgate is one of the most important watercourses... for the European eel population," he added.
"They are currently classed as critically endangered and this project will open up over 12km (7.4 miles) of favourable habitat and environment for river inhabitants and local visitors."