Rare butterfly hopes for new Cotswold nature reserve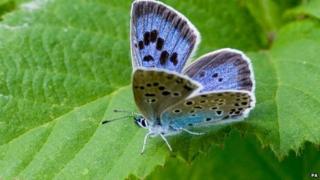 A Cotswold meadow has opened as a nature reserve in a bid to help reintroduce a rare butterfly.
The 44-acre Rough Bank reserve in the Slad Valley is home to 33 species of butterfly, 38 species of nationally-scare moths and 12 species of orchid.
It will now be used to reintroduce the Large Blue butterfly, extinct in Great Britain for more than 20 years.
Chief executive of Butterfly Conservation, Dr Martin Warren, said it was a "wonderful site".
"Rough Bank is a really superb example of limestone grassland in the Cotswolds," he added.
"The large blue butterfly became extinct in Britain in 1979. We've got a programme to reintroduce it to the Cotswolds and Rough Bank will be part of the programme."
The Large Blue was reintroduced at Gloucestershire Wildlife Trust's Daneway Banks nature reserve in 2000.
Butterfly Conservation is hoping to use another six sites over the next few years, including Rough Bank.
The site is part of the Cotswolds Commons and Beechwoods National Nature Reserve run in collaboration with Natural England and the National Trust.