Gloucester's Jet Age Museum celebrates bumper first year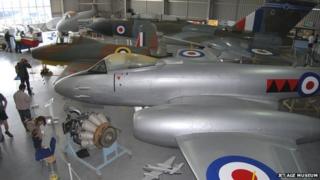 An aircraft museum in Gloucestershire which reopened last year after a decade of waiting is celebrating bumper visitor numbers.
Some 20,000 people have visited the Jet Age Museum since last August - double the number expected by the trustees.
The original facility attracted 5,500 visits a year but shut 14 years ago and the aircraft were put into storage.
Campaigners spent years planning the new permanent display which also includes archive photos and documents.
'Strength to strength'
The UK's first jet aircraft, the Gloster E28/39, was built and tested in Gloucester in the early 1940s.
A replica is on display as part of the museum collection which also includes a replica Gloster-built Hawker Hurricane, a delicate 1925 Gloster Gamecock made out of wood and fabric, and two Gloster Meteors.
Museum chairman, Darren Lewington, said: "With the 70th anniversary of [The Battle of] Arnhem approaching, the Gloucester History Festival and an exciting new campaign to build a Hawker Typhoon cockpit about to be launched, we're going from strength to strength and far exceeding our most optimistic forecasts."
Campaigners raised £250,000 to pay for the new building on land which has been leased from Gloucestershire Airport for 45 years.
More than £72,000 has been raised from museum visitors in the past year.