Woodchester Mansion records 'biggest greater horseshoe bat'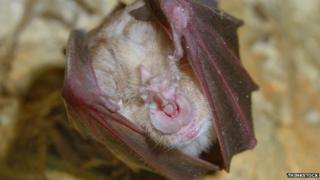 A Victorian mansion known for its rare bats has recorded its biggest specimen since studies began there in the 1950s.
The bat survey at Woodchester Mansion in Gloucestershire is thought to be the longest continuous study of a mammal by a single individual.
Earlier this week Roger Ransome recorded a greater horseshoe juvenile as having a forearm of 60.4mm - 4.2mm longer than the average for the colony.
A mansion spokeswoman said it had been "an amazing year" for the bats.
The Grade I listed Victorian mansion near Stroud, which was abandoned during construction in the 1850s, has colonies of rare greater and lesser horseshoe bats, as well as pipistrelles and small numbers of brown long-eared and serotine bats.
Encouraged by the record, Dr Ransome - who has been studying the bats since 1959 - said conditions this year for births and growth of the greater horseshoe had been excellent.
Numbers of the greater and lesser horseshoe numbers have risen strongly over the past 15 years, but "hit the buffers" in 2012 and 2103 due to very late cold spring conditions, he said.
Mansion manager Hannah McCanlis said the colonies were thriving again, which was partly due to warm weather with improved feeding.
"Everyone at the trust was thrilled to learn that not only are the colonies' numbers improving year on year, but that they are growing larger," she said.
Altogether there are more than 1,000 horseshoe bats - identifiable by a horseshoe-shaped flap of skin around their nostrils - present in the mansion.