Battle of Tewkesbury site purchase bidders 'invited'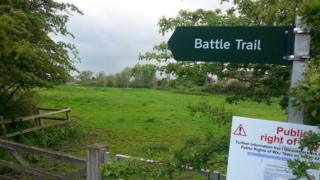 Campaigners who want to protect the site of a 15th Century Wars of the Roses battlefield say they have been invited to make a bid to buy the land.
Tewkesbury Battlefield Society has been raising funds to buy Gastons Fields since they were put up for sale earlier this year.
Steve Goodchild, of the society, said the bid deadline was 1 September.
The land was put up for sale by Tewkesbury School's trust fund with a guide price of £120,000 to £150,000.
It is not known if any other parties have been invited to bid.
The site where the Battle of Tewkesbury was fought had been due to be sold by auction last February.
But, Tewkesbury Borough Council listed it as an asset of community value, giving campaigners time to raise funds.
'Like playing poker'
The campaigners said they feared the land could be sold to a developer and be built on.
The group of medieval enthusiasts and local residents want to keep the site as a public open space.
Mr Goodchild said: "We've had a long period of silence, but we've now been asked to submit a bid.
"We've decided what to bid, which is largely the amount of money we've raised, which is quite substantial.
"If we don't win we'll have to give it all back."
He said the society was continuing to raise funds as they would need money for restoration work should they win.
"My fingers are crossed so much the knuckles are white," he said. "It's like playing poker when you can't look the other person in the eye. You don't even know if there is another person."