Cheltenham Banksy mural: Pictures emerge of work on house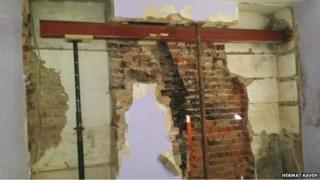 Photos have emerged which show the "substantial work" being investigated at a house on which artist Banksy painted his 'Spy Booth' mural.
The pictures appear to show a chimney breast and bricks have been removed from the interior of the Grade-II* listed house in Cheltenham.
The property's owner said he did not know how the damage was done.
Council officers investigating whether work was done without permission have questioned a man under caution.
Cheltenham Borough Council described the work as substantial and said it was investigating "a potential criminal offence".
The property owner's business partner said the house in Fairview Road had been broken into.
Gloucestershire Police confirmed it had received a report of a dwelling burglary but a spokesman said their investigation was complete and they were keeping an open mind into the circumstances.
The owner plans to apply for listed building consent to restore the chimney breast and then sell the artwork, which has twice been vandalised.
Martin Horwood, the town's Liberal Democrat MP, said he was "really shocked" by the pictures.
"We've all been worried about the Banksy being damaged from the outside but it's now clear there's just as much risk from inside the building," he said.
Campaigners have agreed a deal - thought to be worth several hundred thousand pounds - to buy the house and therefore retain the graffiti in situ.
Previously it was claimed the artwork had been sold and would be removed, but the council halted the contractors as no permission had been obtained for works to change the fabric of the protected building.
Businessman Hekmat Kaveh, who has offered most of the cash to buy the property and took the interior photographs last week, said he was still committed to the project but suggested his cash offer would reflect the house's state.