Gloucester cattle: Concern over survival of rare breed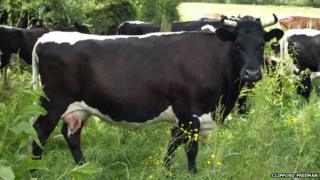 A drop in numbers of Gloucester cattle have led to increased fears the breed could once again face extinction.
The Rare Breeds Survival Trust (RBST) has listed the breed as vulnerable saying there are now fewer than 450 breeding cows left.
Intensive farming pressures and TB regulations have been given as possible reasons for the reduction in numbers.
Joe Henson, who helped launch the RBST in 1973, said he was "heartbroken" about the risk of losing the breed.
If the breed became extinct the protected cheese associated with it - single Gloucester - and the trademark-protected "Gloucester beef" would also be lost.
Clifford Freeman, who farms nearly 80 cows and calves near Apperley - the largest remaining herd of Gloucesters - said the breed was not suited to modern intensive farming.
"They are neither a brilliant dairy cow or a brilliant beef cow.
"They were tri-purpose originally as they would have been used for oxen - but they are a compromise between dairy and beef."
In 1973, the breed was nearly extinct when the last remaining herd of 33 cows was sold at market.
A collection of local farmers worked together to re-establish a breeding population.
Mr Henson said: "I think if we can go on breeding and producing these lovely cattle we won't have any trouble selling them.
"But we are having trouble selling them at the moment because so many of us are shut down under the TB regulations.
"People don't want to breed things that they can't sell. I'm afraid some breeders are throwing in the towel and are giving up."
Gloucestershire rare breeds, as listed by the RBST
Gloucester cattle (vulnerable - 250 to 450 left)
Cotswold sheep (at risk - 900 to 1,500 left)
Gloucestershire old spot pigs (minority - 500 to 1,000 left)
Source: Rare Breeds Survival Trust watchlist