Bristol Metrobus scheme 'could cut journey times by 75%'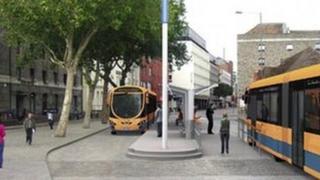 A planned "rapid transit" bus route through Bristol could cut journey times by up to 75%, it has been claimed.
Predicted speeds for the £200m Metrobus scheme have been outlined in a document from development partners, West of England Partnership (Wep).
The biggest reduction in journey time would see the Long Ashton Park and Ride to Hengrove route cut from 50 minutes to 12.
However, campaigners against the scheme are taking their case to Westminster.
The Alliance to Rethink Metrobus group says that the scheme will not cut journey times and will destroy green space and wildlife.
Spokeswoman Pip Sheard described the scheme as "pathetic" and a "white elephant" and said that Wep was "funding something that is a waste of money".
The group is delivering a letter to the Department for Transport asking ministers to rethink the proposal.
'No restrictions'
Chairman of the West of England Joint Transport Executive Committee, Brian Allinson said Metrobus will "get people from one part of Bristol to another rapidly", and is "not subject to the restrictions other buses have".
He said any challenge by campaigners could jeopardise the scheme and prevent Bristol from "getting the sort of transport system it deserves".
The West of England Partnership (Wep) is made up of Bath and North East Somerset, South Gloucestershire and North Somerset councils.
The Metrobus scheme has been in development since 2006, and was approved by the government in December. It is part of a wider plan to improve public transport across the West of England.