Dead River Severn bottlenose dolphin tests to be conducted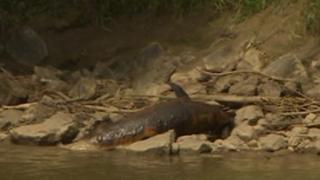 Scientists are to take blubber and skin samples from the body of a bottlenose dolphin found dead in the River Severn near Gloucester.
The creature was originally spotted last month and conservationists had hoped it would swim back out to sea.
Its body was spotted at the weekend and the carcass is being recovered before tests are carried out later.
A team from the Severn Area Rescue Association located the body near Elmore.
Matt Perkins, from the Zoological Society of London's Cetacean Strandings Investigation Programme, said taking samples was a "priority" because of the rarity of finding a bottlenose dolphin so far inland.
He said he would take a skin sample to test the animal's genetics, a blubber sample to test for any toxins, and a tooth sample to identify the animal's age.
After the tests have been carried out the carcass will be disposed of by a team from the Environment Agency.