Dry stone wall academy launched in the Cotswolds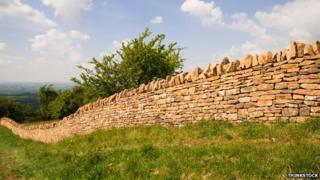 A dry stone walling academy has been set up in Gloucestershire in an attempt to improve the quality of workmanship.
The academy is based at the old Northleach Prison site and is run by The Cotswolds Conservation Board.
Organisers say it will teach the traditional skill to people wanting to become professional wallers. They will gain an accredited qualification.
They say some walls in the area have been repaired with non-traditional materials such as concrete.
David Molloy from The Cotswolds Conservation Board said: "It's about maintaining the high quality of dry stone wallers we've got in the Cotswolds.
"We want to make sure that new wallers coming into the trade are building walls how they should be built and not putting materials in there like concrete, which we've seen of late, which shouldn't be going into walls.
"We've got about 4,000 miles of dry stone walls in the Cotswolds so there's plenty of work to do."
Mr Molloy said people with "a good eye for a 3D jigsaw" make good wallers.
The academy will be officially launched later this month.