Cheltenham Banksy artwork deal 'close'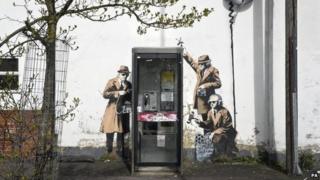 A businesswoman has said she is close to securing a deal to keep a Banksy artwork in Cheltenham.
The "Spy Booth" image painted on the wall of a house was going to be removed and sold by its owners who believed it could fetch up to £1m at auction.
Since then a campaign has been launched by Angela de Souza to buy the work so it could be kept in the town.
Earlier Ms De Souza confirmed the owner had accepted a "cash offer" from a local philanthropist.
'Very strong feeling'
Lawyers are drawing up the paperwork for the sale.
Ms De Souza said the artwork would not be moved.
Businessman and philanthropist Hekmat Kaveh put up a "significant sum" towards the appeal to buy the work by the secretive graffiti artist.
He said: "Having spoken to many people over the last few weeks, and reading many comments on social media, I have concluded that there is a very strong feeling about this work.
"It seems that Cheltenham generally is in support of not only retaining the Banksy in the town, but in its current location, where it was clearly intended to be."
The sum has remained confidential on agreement between the two parties.
A stop notice made by Cheltenham Borough Council preventing the sale of the artwork was due to expire on Wednesday, 30 July.