Celebrity audio guide boosts numbers at Gloucestershire church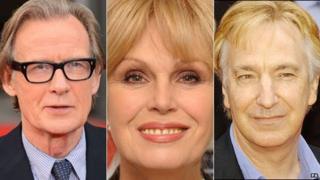 An audio guide voiced by actors including Alan Rickman, Joanna Lumley and Bill Nighy has boosted visitor numbers at a church in Gloucestershire.
More than 25 people voice the guide, which details the medieval windows of St Mary's Church in Fairford.
Churchwarden Mike Godsal said visitors had doubled to 75 people a day since the guide launched on Monday.
The 28 windows have been described as "one of England's outstanding galleries of church art" by the National Trust.
The two-hour guide gives an overview of the stained glass windows, which tell the Christian story from creation to the last judgment.
They were crafted between 1500 and 1515.
After visiting the church, Nicolas Kent, former artistic director of the Tricycle Theatre in London, thought the windows needed an audio guide and started recruiting the voices.
He said: "I asked friends if they would do it and everyone, other than Ian McKellan who said he was an atheist, said yes."
"I went and saw them, showed them a picture of the window they were talking about, and they talked for about 15 minutes each."
Working from a script written by the late Denys Hodson, who had overseen the restoration of the windows, each actor narrated the history and imagery of each window.
"The way it was written was quite dry but with the window in front of you it's quite astonishing," said Mr Kent.
"We're hoping everyone will come to a party at some stage, to hear what they and others have done."
---
Actors and celebrities featured include:
Alan Rickman
Anne Robinson
Bill Nighy
Celia Imrie
Frances de la Tour
Hayley Mills
Joanna Lumley
Jon Snow
Richard Wilson
Tim Piggott-Smith
Zoe Wanamaker
---