Hollie Gazzard event to mark 21st birthday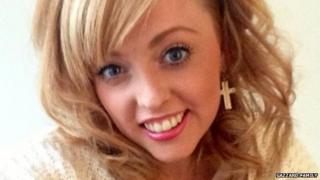 Two days of fundraising are taking place to mark what would have been the 21st birthday of a hairdresser who was stabbed to death in her salon.
Hollie Gazzard was murdered by her ex-boyfriend Asher Maslin in February.
The King Teddy pub, where Miss Gazzard worked part-time, will have a Harry Potter-themed night among other events to raise money for abuse victims.
Candles will be lit in memory of Miss Gazzard at 20:00 BST to mark her birthday.
Earlier this month Maslin admitted repeatedly stabbing her to death just days after Miss Gazzard ended their relationship. He now serving life in jail for her murder.
The events will run over the weekend, which will start off with live music, and an auction later.
Pub manager Aaron Abbott said: "There will be a lot of fun, a lot of laughter remembering Hollie and what would have been her 21st birthday."