Forest of Dean Wilderness Centre bought by unnamed buyer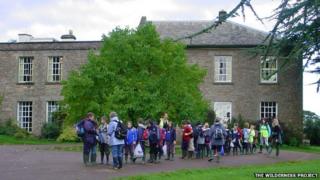 An outdoor education centre in the Forest of Dean, which was shut by Gloucestershire County Council due to budget cuts, has been sold.
The Wilderness Centre near Mitcheldean has been bought by an unnamed buyer from Cambridgeshire, a spokesman said.
It will be used as an educational hub by schools in the county and elsewhere.
Campaigners wanting to save the centre said it was "very good news" that it would re-open. The council closed the centre in 2011.
'Exciting' future
A bid by the campaign group Friends of the Wilderness to buy the centre failed earlier this year but spokesman Trevor Roach welcomed the sale.
"We've always known that an environmental centre was a viable business to run in the Forest of Dean, even though the county council has always said it wouldn't, so they wanted to sell it as a vacant building," he said.
"I find it more than ironic that after three years, they've sold it to a private business as an environmental centre."
A council spokesman said the centre's sale price would be revealed after contracts had been exchanged, as the figure was still under negotiation.
It is understood to have cost Gloucestershire County Council £3,000 per week to pay for security at the site since squatters were evicted in April 2012.
The as yet unnamed buyer said they were "really excited" about the purchase.
"We're looking forward to bringing it back to life and giving young people the opportunity to learn about nature and enjoy a range of outdoor educational activities."