Carolyn Dewdney paragliding death a 'mystery' inquest hears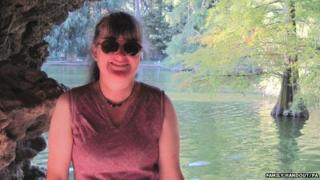 The reason an "eminently experienced" paraglider died during her jump will remain a mystery, a coroner said.
Carolyn Dewdney, 53, from Cheltenham, crashed in Tenerife in November.
She and her husband had been on a week-long paragliding holiday and were flying in a group in the mountainous area of Adeje on the Spanish island.
Senior coroner Katy Skerrett concluded the death was accidental. She said: "In terms of why it happened when it did, we will never know."
She added: "Perhaps she suffered from an acute event related to her heart, or she suffered a momentary lapse of consciousness."
The inquest heard how Mrs Dewdney's husband Nigel watched his wife "spinning going down" during her jump from Ifonche.
He added he thought his wife had suffered a heart attack mid-flight.
A doctor who reviewed the Spanish authorities' findings said Mrs Dewdney's death was caused by chest injuries from the impact of the fall.