Tewkesbury river silt dredging plan gets go-ahead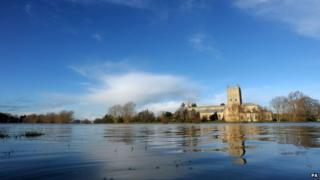 The Environment Agency has agreed to dredge two rivers in a Gloucestershire town to help prevent future flooding.
The de-silting work will be carried out at two places, at the River Swilgate and at Carrant Brook in Tewkesbury.
Anthony Perry from the agency said: "I am glad we are able to work with local groups to identify these areas."
The work is in addition to a £4m flood project to repair damage caused by winter floods. Gloucestershire County Council has welcomed the move.
Dave Witts, from the Severn and Avon Combined Flood Group, said: "When they start we will monitor them and if they don't do it properly we will really take them to task.
"What we don't want to see is money diverted to other projects - this is solely about getting silt out of the rivers and to increase the flow away into the main rivers."
Vernon Smith, the council's Conservative cabinet member for highways and flood, said: "This work is an important step forward to help cut the risk of flooding, protecting homes and businesses in the future."
The work is expected to start in August.