Slad Valley housing plans appeal rejected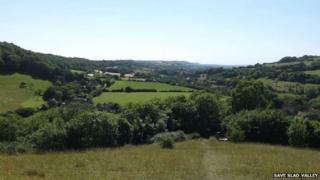 An appeal against a decision to reject housing plans, in a valley made famous by writer and poet Laurie Lee, has been dismissed by a planning inspector.
Developer Gladman wanted to build 112 homes on Baxter's Fields at Summer Street, in the Slad Valley near Stroud.
It appealed against the decision after initial plans were turned down by Stroud District Council.
Andy Dickinson, from the Slad Valley Action Group, said it was a "fabulous result".
"It's so important that a valley like the Slad Valley should be protected," he said.
"With the Laurie Lee [100th birthday] celebrations over the recent summer and the huge number of people who've visited it and enjoyed it, it gives us real hope to preserve the valley for the future."
Mankley Field approval
However, the planning inspector did back Gladman's appeal regarding 150 houses on Mankley Field in nearby Leonard Stanley.
Diane Odell, from the Mankley Field Action Group, said she was "angry and frustrated the inspector had gone against local democracy".
"Everybody in the villages of Leonard Stanley and King's Stanley fought against this," she said.