Call for more effort to tackle gulls in Gloucester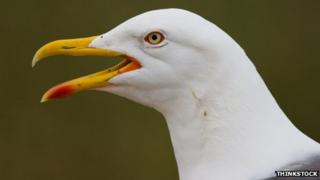 Businesses in Gloucester are calling on the local authority to do more about the problem of urban gull numbers in the county.
Traders say they are being forced to spend too much money on pest control measures and the Federation of Small Businesses says a cull is necessary.
Gloucestershire City Council said it has received more than 50 complaints about the birds this year.
However, it said its egg oiling programme was tackling the problem.
John Forward of Regent Arcade in the city centre said it was spending about £18,000 a year on pest control.
'Hundred of them'
He said the birds attack shoppers and leave mess, which he described as "a major problem".
Muhammed Nawaz, who runs the Bedmaker Bed Shop in Eastgate Street, said: "They are always flying around and there are hundreds of them here."
A Gloucester City Council spokesman said it had oiled more than 800 eggs in the past year.
The oiling method sees eggs being treated during the laying season and then left in the nest.
Adult birds continue to sit on the eggs, but due to the treatment they will not hatch.
He said: "Our programme, along with other local authorities along the Severn Estuary, is to reduce the breeding population of gulls in the city, but it will never be possible to completely rid an urban area like Gloucester of these birds."