Banksy 'Spy Booth' hoardings removed in Cheltenham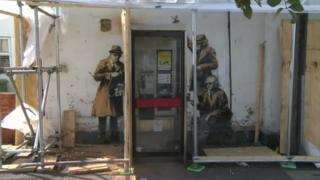 Hoardings around Banksy's "Spy Booth" mural in Cheltenham have been removed.
The artwork depicting men "snooping" on a phone box appeared in April, three miles from the government communications headquarters, GCHQ.
It has been covered up since last month when a team of workmen came to remove it from the private house it was sprayed on.
Some reports said the boards were ripped down by people who were "fed up" with not being able to see it.
Meanwhile, campaigners trying to buy the mural for the town have said they are "confident" it can be saved.
"I'm certainly going to do my utmost to make sure it stays," said Angela De Souza from the Women's Business Club.
"All parties want the Banksy to stay and all the people that can make it happen are in favour of it staying, that's the important thing.
"Lawyers have been appointed on both sides and they are speaking to each other now. We are negotiating terms and putting some contracts in place."
Mrs De Souza added that "huge progress" had been made.
The Woman's Business Club is trying to raise £650,000 to buy the painting and the house, located on the junction of Fairview Road and Hewlett Road.
A local businessman has already given the campaign £100,000 and said he was "willing to match any amount another business is willing to put in".
The campaign to save the mural started after scaffolding went up around the street art in June, sparking fears it would be removed and sold.