Cyprus death 'entirely avoidable', an inquest hears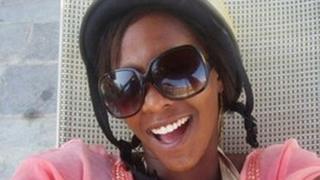 The death of a young British woman in Cyprus six years ago was "entirely avoidable", an inquest has heard.
Kalisha Gordon, 21, from Gloucester, died while on a working holiday in Ayia Napa, in July 2008, after medics failed to diagnose an ectopic pregnancy.
Giving a narrative verdict, coroner Katy Skerrett said "Kalisha did everything right" but "at no stage was her ectopic pregnancy diagnosed".
Ms Gordon's father Lloyd Gordon said the family could now "move on".
'Failures'
Kalisha Gordon had been preparing to fly home to tell her parents she was pregnant when she fell seriously ill. She was taken to a private clinic in Paralimni, but died six hours later.
Ms Skerrett said there had been a "failure to diagnose and a failure to treat her ectopic pregnancy."
She said she "hoped today's inquest would provide the family with a small amount of closure".
An earlier inquest was also held in Cyprus in January 2012 after her family fought to find out the truth about how she died.
That inquest also found mistakes were made by both the hospital and the doctor who failed to diagnose an ectopic pregnancy, where the foetus develops outside the womb.
Kalisha's father said that while the family were "happy" with the verdict at the Gloucestershire inquest, they would "continue to pursue their fight for justice from the Cypriot authorities".