Coroner Alan Crickmore loses appeal to reduce sentence for £2m theft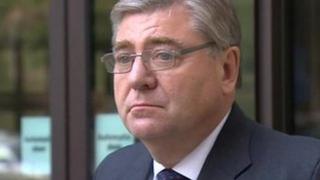 A coroner jailed for stealing £2m from clients at his law practice, has lost an appeal to reduce his sentence.
Alan Crickmore, 57, from Cheltenham, Gloucestershire, was jailed for eight years after stealing from the accounts of clients and estates of dead people.
Crickmore's lawyers argued that his sentence was too harsh and should be reduced by up to two years.
But an Appeal Court judge said such offences required "stiff sentences" and eight years was "just and appropriate".
'Just deserts'
At a previous court hearing Crickmore, of East Approach Drive in Cheltenham, had admitted 24 counts of fraud.
In total he stole £1,985,097 from the accounts of clients and estates of dead people using his practice, Alan C Crickmore Solicitors, in the town.
A court heard how he used the money to fund a lavish lifestyle which included exotic cruises, expensive restaurants and fine wines.
At the Court of Appeal, his legal team argued that an eight year sentence was "crushing" and that due to his early guilty plea and low risk of re-offending, six or seven years would have been more appropriate.
But Mr Justice Openshaw, refused leave to appeal, saying that the sentence was "just and proportionate".
He said: "Such offences require stiff sentences to punish the offender, to deter others and to reassure the public that those who offend on such a spectacular scale will receive their just deserts."