Banksy's Spy Booth: Deal stalls to keep it in Cheltenham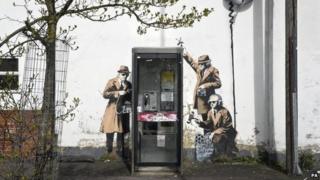 A deal to keep Banksy's 'Spy Booth' on the Cheltenham wall where it was painted has stalled.
Locals have been trying to save the stencilled work after it was claimed it had been sold and would be removed.
Campaigner Angela DeSouza says she is unlikely to have raised the initial £100,000 needed to prevent the sale by the end of Monday, which was the deadline.
"We did potentially have more promised but it's fallen through," she said.
Robin Barton, from the Bankrobber gallery in London, said he had been asked by the owner of the house on which the work is painted to oversee negotiations.
Mr Barton said a "speculative buyer" had been found for the piece but a "six figure" deal could see it kept it in its current location, on the corner of Fairview Road and Hewlett Road.
Last week, businesswoman Mrs DeSouza failed in an attempt to raise £1m within a self-imposed six hour deadline to make an offer.
But she refused to give up and has continued to gather financial pledges and negotiate a "much more reasonable" deal.
"We have got down to £650,000 which means that we need to come up with £100,000 today [Monday] to secure this deal," she said.
"We need the other £550,000 within 10 days and then we need £250,000 to buy the whole house."
She has been unable to get over the first hurdle of "£100,000 in the bank" but said she did "not quit easily".
"The art dealer in London, the owner of the Banksy, the owner of the house and the general public want us to succeed and there's nobody pressurising us to get this off of the wall," she said.
"So everybody is for this, it just needs to come together."
The artwork, depicting men "snooping" on a telephone box, appeared in April.
At the beginning of June, Banksy admitted painting the work, which is situated three miles from the government communications headquarters, GCHQ.