Lord Edward Somerset's jail term for beating wife upheld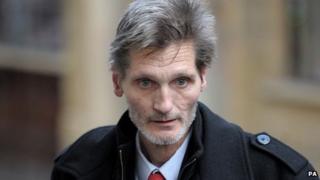 A drink and drug-addicted aristocrat who beat his wife several times over a 22-year period has had his prison sentence upheld by Appeal Court judges.
Lord Edward Somerset, 55, was jailed for two years in February.
Then, Bristol Crown Court heard the son of the Duke of Beaufort punched, kicked and scratched his wife Caroline during arguments between 1990 and 2012.
He admitted four counts of assault occasioning actual bodily harm during a previous court appearance in December.
Lady Justice Rafferty, sitting in the Court of Appeal, said the couple had been married for more than 30 years but during that time Somerset had subjected his wife to "repeated domestic violence".
'Justified' sentence
Despite being a "lifelong user" of heroin and cocaine, he was described in court as a man of "charm, ability and intellect" with a previous unblemished record.
Somerset admitted "incidents of violence" over the years, often fuelled by drink, but the court heard he blamed Lady Caroline as the "instigator" and said she would "goad him" when she was drunk.
Lady Caroline had tried rehabilitation and "managed some periods of abstinence" but Somerset "did not attempt rehabilitation".
Somerset's legal team challenged the length of his sentence and claimed that two years was too harsh for a man of previous good character who had pleaded guilty.
His QC, William Clegg, said it was "not an instance of repeated violence by a loutish brute".
In summing up, Lady Justice Rafferty acknowledged that the injuries inflicted were "far from the most serious to come before the courts".
However, she dismissed the appeal and concluded the sentence "was more than justified".